Bundle and save
Pay just $185 per course when purchasing all four Core courses at one time:
Sound Awareness, Color Vowel® Yoga, Spelling Exploration, Rhythm & Chants
About this course
Develop your phonological awareness and gain strategies for building your students' awareness for greater confidence and comprehensibility.
Workshop Overview

Phonological (sound) awareness is a person's awareness of the sounds, rhythms, and intonations they use when speaking and when listening to the speech of others. In this practice-based workshop, Dr. Robin Barr will lead participants through a series of discovery activities and mini-lectures aimed at increasing teachers' sound awareness for the purpose of English language teaching.

Prerequisites

This Level 2 course is open to Color Vowel® Level 1 Trained Teachers, and it is also recommended that participants have previously completed or be enrolled in the Level 2 Color Vowel® Yoga course.

Auditing Option

Anyone who has previously completed a Sound Awareness class with ELTS may audit this course. Auditors may attend live or asynchronously; however, attending the live Zoom sessions will provide a more robust and useful experience. Auditors do not receive feedback on completed assignments.

Spaces are limited.
Meeting dates and times
(Fall Session)
Thursday, September 8, 7:00 - 8:30 pm EDT (Eastern U.S.)

Thursday, September 15, 7:00 - 8:30 pm EDT

Thursday, September 22, 7:00 - 8:30 pm EDT

Thursday, September 29, 7:00 - 8:30 pm EDT
Dr. Robin Barr
ELTS Lead Phonologist
ROBIN BARR holds a PhD in Linguistics from Harvard, an MA in Linguistics from Harvard, and a BA in Linguistics from Yale. Dr. Barr teaches dyslexic adult learners at the Washington Literacy Council, where she has developed a responsive curriculum that combines traditional phonics with brain-based strategies from the Color Vowel® Approach. As Lead Phonologist, Robin advises ELTS during design phases of the Color Vowel® Chart and provides training around topics ranging from teaching pronunciation and L1/L2 dyslexia intervention to brain-based language instruction and phonological awareness training.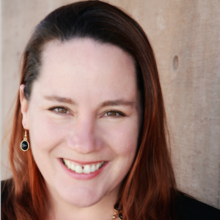 Karen Taylor
Director, ELTS
KAREN TAYLOR co-founded ELTS in 2011 in response to a popular demand for the Color Vowel® Chart, a teaching tool she created in 1999. She holds an MA in TESOL from the Middlebury Institute of International Studies at Monterey and a BA in English Literature from Georgetown University, as well as an International Baccalaureate from the United World College (US campus). A former Fulbright TEFL Specialist, Karen was the Practitioner in Residence at American University for nine years. She received Ed Tech's 2020 Visionary Leader award for her work as Head of Education and is now CEO at Blue Canoe Learning Inc.
How to Join Our Group in the Flip App

Course Resources and Links

How to Record Videos in Flip

How to Complete and Submit Video Assignments

How to Complete and Submit Discussion Board Assignments

Assignment Submission Document

Resources from Week 1's class

Week 1 Live Session - Exit Ticket / Asynchronous Attendance Reflection

Spanish Problem Set: /d/ and /ð/

Miriam Makeba - "Click Song" (Qongqothwane)

Week 2 Exit Ticket / Asynchronous Attendance Reflection

Felicity's Self-Introduction: Listening for glottal stops

Week 3 Exit Ticket / Asynchronous Attendance Reflection

Felicity's Self-Intro - Second Analysis

Toothbrush & Mirrors: Vowel Exploration
Continue your journey with Color Vowel®
Develop and deepen your phonological awareness