About this course
Discover the secrets of English pronunciation in this unique course for non-native English speakers and advanced English learners.
Course Overview

In this 5-session, practice-based course, you will participate in a series of brain-based English pronunciation exercises that will help you build a new and powerful awareness of the sounds and rhythms of English.

Who should take this course?

This course is for non-native English-speaking teachers and learners of English with high-intermediate or advanced English vocabulary and grammar.

Who teaches this course?

Jennifer Campion and Karen Taylor teach with a dedicated team of Level 2 Color Vowel Pronunciation Coaches. For you, the participant, this means that you receive LOTS of attention and personalized pronunciation feedback both during the live sessions and in response to your homework video tasks.
Meeting dates and times
(Fall Session)
There is no class on Wednesday, November 23rd due to the Thanksgiving Holiday in the U.S.

Registration for the Winter session will open in December.
Wednesday, November 2, 1-2:30 pm EDT (Eastern U.S.)

Wednesday, November 9, 1-2:30 pm EST (Please note change back to Eastern Standard Time.)

Wednesday, November 16, 1-2:30 pm EST

Wednesday, November 30, 1-2:30 pm EST

Wednesday, December 7, 1-2:30 pm EST
Course activities
Each week, participants will explore:
Pronunciation skills: vowel sounds, stress, rhythm, consonants, etc.

Conversation tasks: speaking spontaneously on a familiar topic and receiving real-time feedback and private coaching

Functional tasks: telling a story, giving a presentation, telling a joke

Daily practice with the Premium Blue Canoe app for improved pronunciation

Weekly pronunciation homework tasks that you submit via video to your pronunciation coach, who provides detailed feedback
Jennifer Campion
Color Vowel® Master Trainer
JENNIFER CAMPION began teaching English over 35 years ago as a Peace Corps Volunteer and subsequently as an observer and trainer in Morocco. After returning to the U.S., Jennifer worked as a documentation specialist for a civil engineering firm and for NASA's Office of Space Flight. She returned to ESL instruction in 2003 as an adjunct in the American Culture and Language Institute at Northern Virginia Community College. Inspired after attending a 3-day Color Vowel phonology retreat in 2016, Jennifer became a Color Vowel Trainer in 2018. She now works as Business Manager at ELTS. Jennifer holds a B.A. in French from Lynchburg College and an M.A. in TESOL from American University.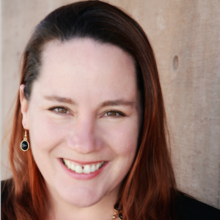 Karen Taylor
Director, ELTS
KAREN TAYLOR co-founded ELTS in 2011 in response to a popular demand for the Color Vowel® Chart, a teaching tool she created in 1999. She holds an MA in TESOL from the Middlebury Institute of International Studies at Monterey and a BA in English Literature from Georgetown University, as well as an International Baccalaureate from the United World College (US campus). A former Fulbright TEFL Specialist, Karen was the Practitioner in Residence at American University for nine years. She received Ed Tech's 2020 Visionary Leader award for her work as Head of Education and is now CEO at Blue Canoe Learning Inc.
What previous participants are saying
"Thanks for creating such a positive environment where I was able to put forth my doubts without any hesitation." Vin Pic • India
"I appreciate the efforts that the coaches have put into helping me develop my pronunciation in a very easy and fun way. The feedback was very helpful and during the group time in the week's lessons, they were very committed to working with us." Aida Ali • Palestine
"Thanks for helping me to learn English. I want to shout to the whole world to hear how happy I am!" Gilson Lopes, EFL Teacher • Brazil
"Speak Confidently! was so powerful for me. My native language is Spanish, and in this course, I discovered new things about English pronunciation that are so important. The teachers were amazing and very supportive. I highly recommend this course!" Gabriella Properzi, ESOL Instructor • Texas, USA
Improve your English pronunciation with
Color Vowel®
Brain-based strategies and activities for improved fluency, intonation, and stress